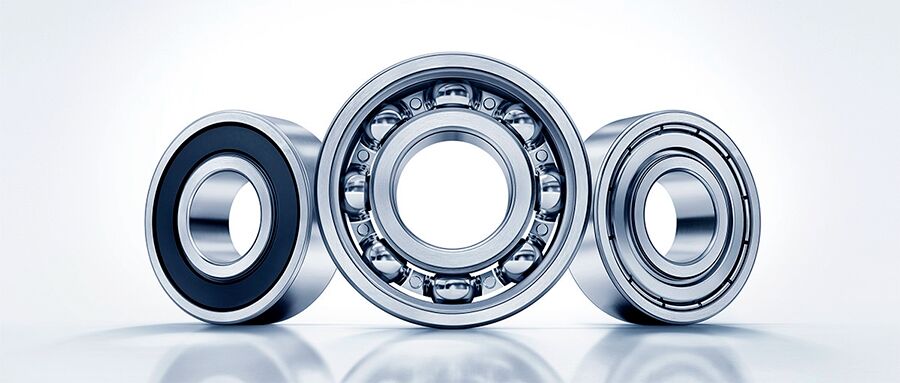 Deep Groove Ball Bearings are the most popular of all bearing types due to their incredible versatility. Some characteristics may include:
They are Low Friction: optimized for minimal noise and vibration which enables high rotational speeds.
Accommodate radial, axial and composite loads and are easy to mount.
They have a wide variety of seals, shield and snap-ring arrangements.
Require less maintenance compared to other bearing types.
Applications of Deep Groove Ball Bearings
Household Items: Bicycles, Skateboards, Sewing Machines, Washing Machines, Tumble Driers, Food Processors, Hair Dryers, DVD Players, Fishing Rods.
Office Equipment: Photocopiers, Fax Machines, Hard-Drives, Fans, Air-Conditioners
Industries: Electric Motors, Pumps / Compressors, Blowers, Elevators, Assembly Lines, Escalators, Medical and Dental Equipment, High-speed Machine Tooling Equipment, Paper Making Machinery, Chain Saws, Power Tools, Toy Manufacturing, Trains, Wind Turbines.
Automotive: Engines, Steering, Driveshaft and Driveline, Alternators, Gear Boxes, Transmissions, Automotive Starters and many many more.
Types of Deep Groove Ball Bearings
Factors such as speed, load conditions, space availability, and accessibility requirements influence bearing selection. We at JVN Bearings provide a range of ball bearings to our customers which may include:
Miniature Ball Bearings
Miniature Ball Bearings are small bearings with balls as their rolling elements. These small bearings have an outside diameter of less than 9.525 mm. They typically have 3 digits Ex: 625 2RS These bearings are offered in various ABEC classes, in either chrome or stainless steel. Both metric and inch styles are available.
Deep Groove Radial Ball Bearings
Deep Groove Radial Ball Bearings are the most popular and widely used type of bearing. They are used for heavy radial loads and lower bidirectional thrust loads. Typically employed in high-speed precision applications such as fans or motorbikes. Ex: 6301 ZZ. They can be designed with enhanced metal shields (ZZ) or rubber seals (2RS) . Multiple internal clearances, tolerance grades, and cage designs are offered to suit specific applications' running precision and speed.
Double Row Deep Groove Ball Bearings
Double Row Deep Groove Ball Bearings are very suitable for bearing arrangements where the load carrying capacity of a single row bearing is inadequate. For the same bore and outside diameter, double row bearings are slightly wider than single row bearings, but have a considerably higher load carrying capacity. Ex: 4210.
Nomenclature of Deep Groove Ball Bearings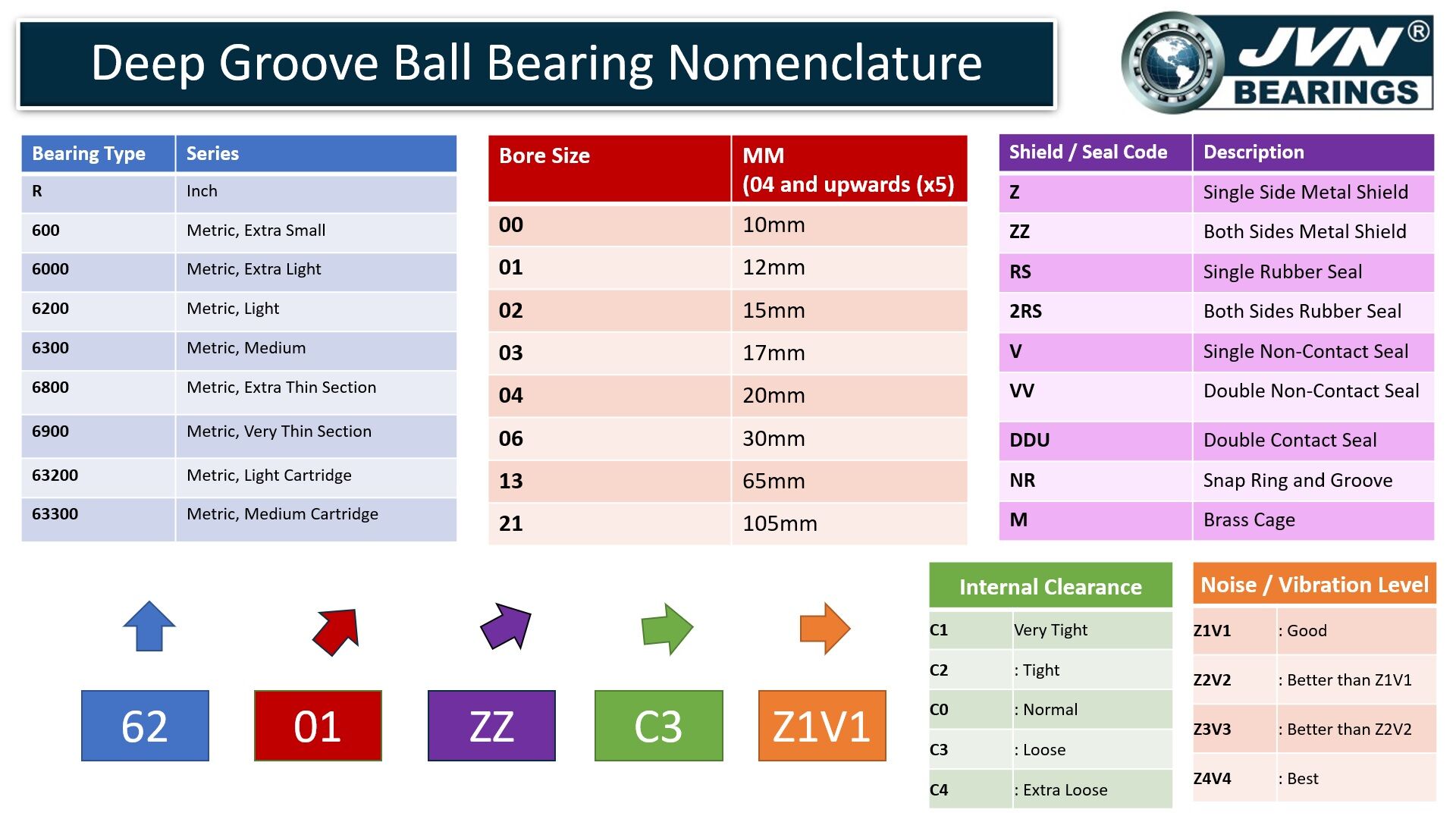 Example: What does 6301ZZ C3 Z1V1 mean?
It is a Metric Medium Sized Bearing with a bore diameter of 12mm, which has a loose internal clearance and noise / vibration grade of Z1V1. The above chart gives a brief description about the nomenclature of Deep Groove Ball Bearings. For further details about how to understand bearing nomenclature please read this article.
Factors Influencing Quality of Deep Groove Ball Bearings
Steel Grade: The steel used during manufacturing plays a crucial role in determining the life and durability of the bearing. A simple "GCR15" or "SAE52100" only describes a range of the composition of steel utilized. The quality varies from factory to factory.
Bearing Components: The quality of balls, cages/seals, lubricant (grease, even anti-rust oil) play an important role in the making of a great bearing.
Design Conformity: The closer the bearing is to the dimensional accuracy of the bearing design standards the better and longer it would be able to perform.
Heat Treatment: Bearings steels are generally purchased in their soft (unhardened / pear-lite) state. Many Chinese factories claim their bearings to be "SAE52100" and ABEC '7' or '9' which may be true, but what they don't tell you is that they skip essential heat treatment processes which are required to harden bearings and ensure their durability. They simply grind bearings within the ABEC tolerances to save cost.
Grinding: The bearing's inner and outer ring raceways need to be thoroughly ground over many cycles to ensure a smooth surface for the rolling elements. Many Chinese factories skip or reduce the number of grinding cycles to reduce cost and offer bearings at cheaper prices.
Cleaning: SAE 52100 has excellent hardness and wear resistance. It also exhibits good fatigue life in rolling element bearings. However, the corrosion resistance of chrome steel is poor because of the low chromium content. The surfaces of the bearings must be thoroughly cleaned and protected with a coating of rust inhibitor or oil to stop oxidation. Even slight humidity or moisture exposure entails rusting of the bearing surface.
Assembly and Bearing Handling: Bearings must be handled with care and consideration. Few factories have automated all the processes involved to reduce human intervention and ensure cleanliness and hygiene. Majority of the factories in China rely on labor for the assembly, handling and packing of the bearings. The labor are usually unskilled and seasonal workers who are not properly trained. This leads to contamination and improper handling of bearings. Well trained and experienced labor are crucial to the success of the bearing factories.
Management: The attitude of the top management towards strict conformance and quality control is paramount to the quality of the bearings produced. Simply having an ISO certificate which can be 'purchased' is not enough. Rigorous discipline and attention to detail is required of bearing factories.