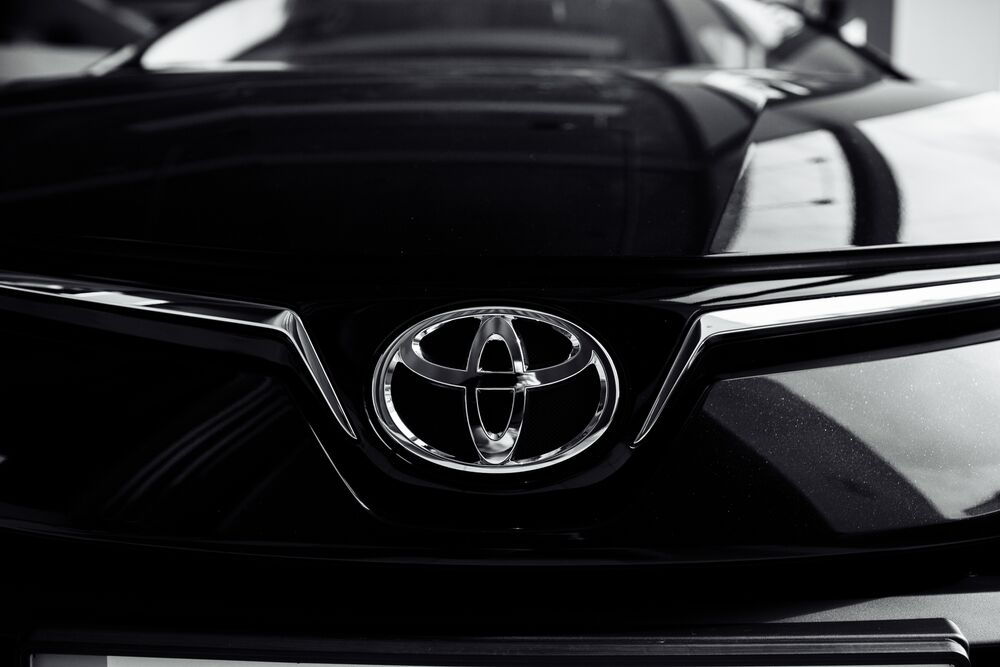 Toyota showcased some of their latest concept cars and electric vehicles, as well as their production models. Additionally, Toyota brought in some of their current and upcoming models for visitors to explore. At Auto Expo 2023 India, attendees can expect to see a wide range of vehicles from Toyota, including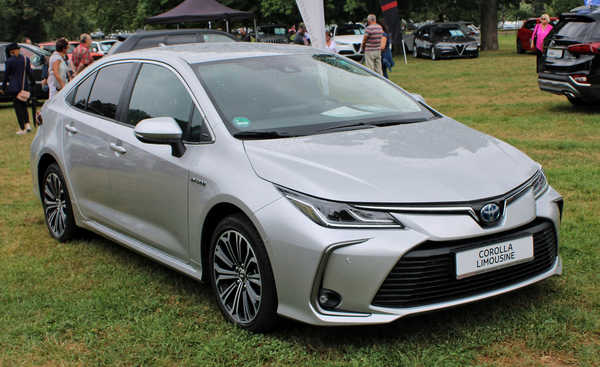 Corolla Altis Flex Fuel

The Toyota Corolla Altis flex Fuel is a version of the Corolla Altis that is sold in Brazil.
It is equipped with a 1.8L VVT-i DOHC flex fuel engine that can run on petrol, ethanol or a mixture of both, producing 102 horsepower and 142 nm of torque
A AC asynchronous electric motor that can produce 72 horsepower and 162 nm of torque is paired with the engine, allowing the car to be powered solely by the electric motor at low speeds.
The car is a left-hand drive (LHD) variant and is available in Brazil, where flex fuel demand has risen.
Toyota has no plans to introduce the Altis flex fuel in India but may consider it if the government increases efforts to adopt flex fuel or ethanol blending
The design of the car is an evolution of the 11th generation Altis.
The drivetrain layout is like that of the Grand Vitara and Hyryder strong hybrids, but with a flex fuel internal combustion component.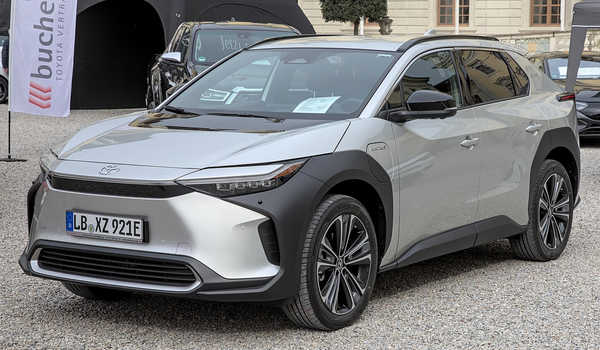 Toyota BZ4X

The Toyota BZ4X is a compact-SUV concept car with a fully electric powertrain, developed and designed by Toyota's bZ division.
Despite its compact label, the BZ4X measures at almost 4.7m, falling into the D-segment crossover category.
Powertrain options include both front-wheel drive and all-wheel drive variants, with ranges of 405 km and 370 km respectively.
The car features an imposing front end with an aggressively contoured bumper and fender, as well as parking assist with automatic braking.
The rear end is signature Toyota, with the tail lamps being unique to the BZ4X.
The car has 6 parking sensors in total on the front and rear bumpers.
The interior design features a dominant grey colour scheme but is broken up by the funky detailing on the piano black centre console, the uniquely shaped steering wheel, and the rotary gear selector below the touchscreen.
Both rear passengers have access to ventilated seats and USB C-type charging points.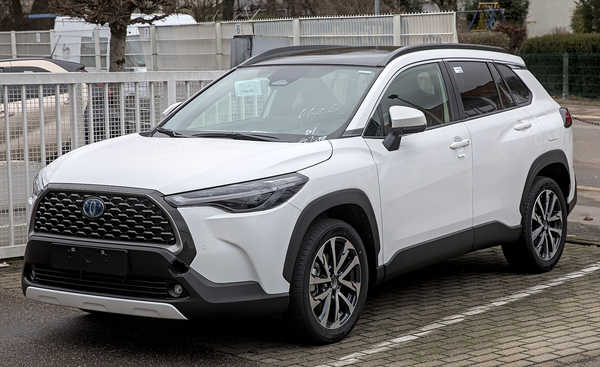 Corolla Cross H2

The Toyota Corolla Cross H2 is a version of the Corolla Cross sold in Thailand that is capable of running on hydrogen fuel.
It is equipped with a 1.6L turbocharged 3-pot motor that is powered by compressed gaseous hydrogen stored in pressurized tanks in the rear seat and boot areas.
The engine comes paired with a 6-speed manual gearbox using Toyota's i-MT or intelligent manual transmission technology.
The front end of the car is unmistakably Toyota, but does not have a similar look to its sedan and hatchback siblings.
The car measures at almost 4.5m, making it similar in size to the Seltos/Creta.
The car has thick black cladding running across its entire length, and is shod with 17-inch Bridgestone Alenza tires riding on steel rims.
The rear end of the car is plain-jane in comparison to the front, and could have benefited from more detailing on the diffuser and a set of LED tail lamps.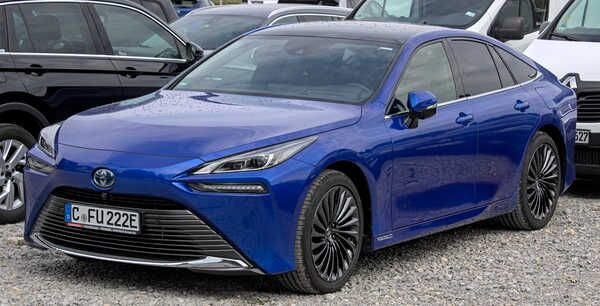 Toyota Mirai

The Toyota Mirai is a luxury car that uses hydrogen fuel to power an electric motor, resulting in a powertrain that generates 182 horsepower and has a range of 650km.
The car stores hydrogen in 3 high-pressure tanks which is used to charge a 1.2kWH battery that powers a 600V AC asynchronous motor.
The car has a bold-looking front end with bifurcated headlamps and indicators, and a front-mounted camera.
The car has a coupe-like derriere with a light bar on the rear.
The Mirai is a unique and niche vehicle in the market.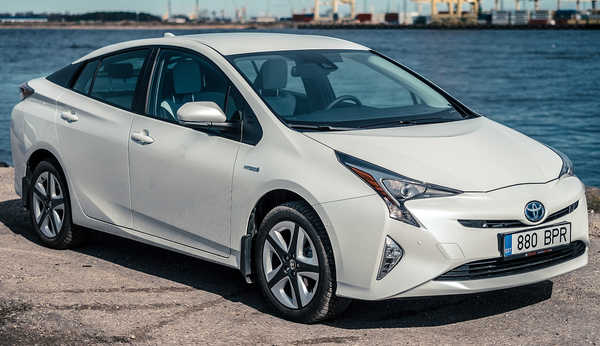 Toyota Prius

The Toyota Prius is a household name in the hybrid car market, and Toyota has sold over 3.9 million of them globally.
The 2023 Prius was unveiled in November 2022, but the car on display is a facelifted version of the 2016 Prius.
The Prius uses a standard Toyota 1.8-liter petrol engine that produces 102 horsepower and 142 nm of torque, paired with an AC asynchronous motor that produces 71 horsepower and 163 nm of torque. The combined output is 120 horsepower, and the car has a claimed range of 1300km.
The front end of the car is polarizing, with a large air dam, aggressively swept back headlamps, and a heavily contoured bumper, giving the car an intimidating stance.
The side profile is relatively conservative, and the overall design philosophy of the Prius has undergone a massive change compared to the first-gen car.
The rear end is also polarizing, with a radically styled tail lamps and a huge piano black insert running between them.
The rear bumper is relatively large for the car's size and has a plug-in hybrid and a blue Toyota logo.
The interior is relatively conservative in terms of design, but white accents help break the monotony. The car also has a small gear lever mounted on the center console.
The car has a boot with a removable parcel tray to keep luggage away from prying eyes.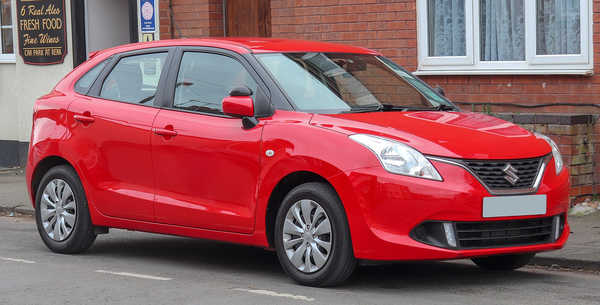 Toyota Glanza

The Toyota Glanza is a visually souped-up version of the standard car with no mechanical changes
Visual modifications include red and black accents around the headlamps and front door, carbon fibre finishing on the front grille and rear diffuser, and the addition of a front splitter and side skirts
The car also features satin black MOMO Revenge alloy wheels and red brake callipers
The exterior changes also include a blacked-out roof and headlamps, and black cladding around the wheel arches
The interior follows the red and black theme, with red and white pinstripe design on the dash and seats, and a combination of carbon fibre and leather on the steering wheel with a red pinstripe
The rear seats and doorpads also feature the red and white treatment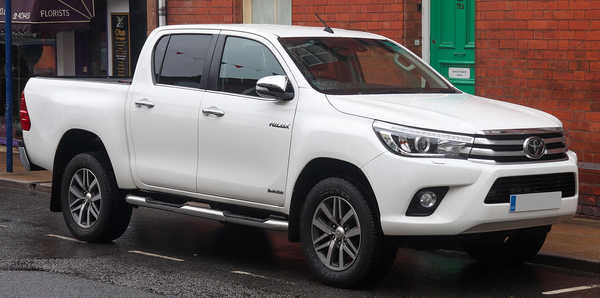 Toyota Helix Off Road Concept

The Hilux off-road concept is a locally made contraption for display purposes.
The visual modifications on the car are functional, but the mechanicals such as the steering & suspension components are non-functional.
The front of the car is dominated by an off-road specific bumper, a light bar, and a pair of LED auxiliary lights.
The lower half of the bumper has a purpose-built tow hook and a bash plate.
The car has 37-inch mud terrain tires, which may not fit the wheel arch while turning.
The car has modified ORVMs that increase field of vision while towing.
The rear bumper also has an off-road treatment and a tow hitch.
The display car was using a Thai lift kit and none of the steering & suspension components are functional.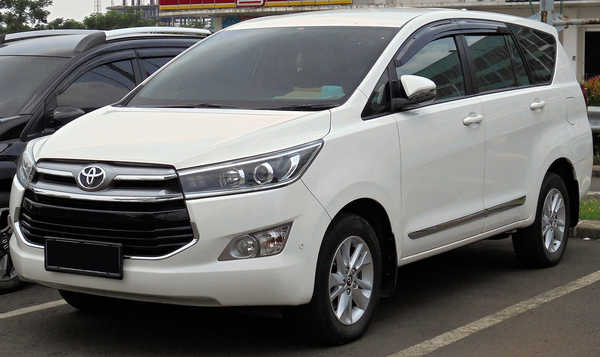 The Toyota Innova Hycross GX

The Hycross GX variant is available in 7 & 8 seater configurations, with a single powertrain option of a 2.0L NA petrol engine paired to a 7-speed CVT gearbox.
The GX variant features an LED reflector type headlamp and halogen indicators, 16-inch alloys with 205/65 tires, and hard plastic dashboard and surrounding areas.
The GX variant misses out on some features such as rear defogger, chrome running between the tail lamps, and climate control.
Standard equipment includes wireless charging pad, 12V charging socket, colour adjustable footwell lighting, and TC, hill hold and electronic parking brake.
The GX variant still has a touchscreen and manual slider for the rear aircon and charging ports for the rear passengers.
The GX variant's bootspace can be increased by flipping down the third row of seats.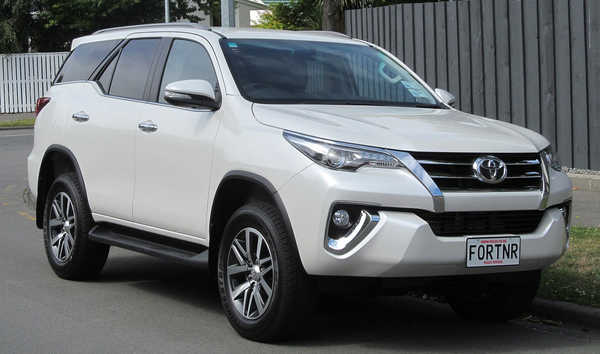 The Toyota Fortuner

The flagship vehicle of the Toyota lineup in India and commands a significant amount of respect
Pros include: a fantastic 2.8L diesel engine, smooth and competent 6-speed automatic gearbox, contemporary styling and imposing street presence, tough build and long lifespan, smooth petrol option available, impressive off-road capability and top-notch safety kit
Cons include: the already-expensive Fortuner has become even more expensive, limitations with the Legender variant, firm and bumpy ride quality, heavy steering at low speeds, lots of body roll, missing features such as sunroof, lumbar adjustment and auto-wipers, cost-cutting evident in some areas, poor fuel efficiency for the petrol variant, and no longer a full-time 4×4 like the 1st-gen car.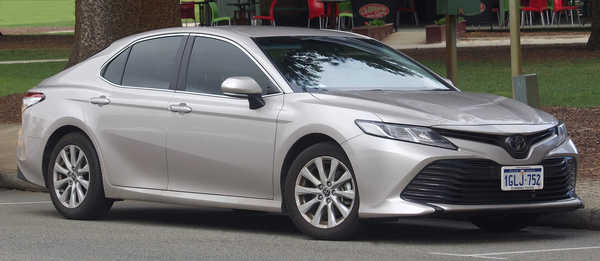 The Toyota Camry

It is a niche player in its segment, primarily dominated by the Skoda Superb and SUVs
It is well-rounded luxury sedan with a spacious and comfortable cabin, ideal for self-driven or chauffeur driven owners
It comes with high-tech and environment-friendly hybrid powertrain mated to a smooth CVT automatic
It offers great fuel efficiency and compliant ride quality
It is loaded with features like amazing sound system, ventilated front seats, reclinable rear seats and head-up display
It has top-notch safety ratings and Toyota's bullet-proof reliability and superb after-sales service
It has a long waiting period and the Camry's front styling may not be to everyone's taste
It is expensive compared to its competitors like VW Passat & Skoda Superb
It is not as much fun to drive as its German competitors, and has a couple of missing essentials such as rpm counter, android auto/apple carplay and folding rear seat.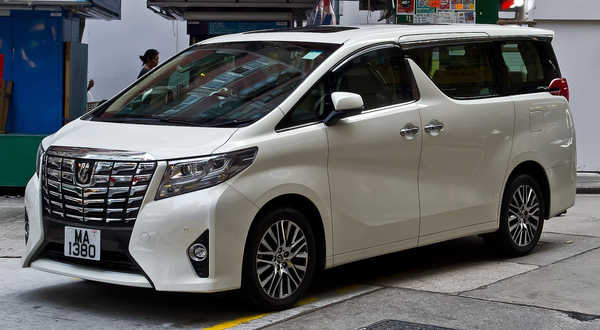 The Toyota Vellfire

It is a luxury petrol hybrid minivan that was launched in India at a price that is nearly 4 times that of the Innova Crysta.
Initially, it was thought to be a branding exercise for Toyota, but it has since found a niche among chauffeur-driven customers.
The focus on the Vellfire is on its Self-charging Hybrid Electric Vehicle (SHEV) technology, which Toyota believes is the right approach for the Indian market.
The Vellfire runs on pure battery power for 60% of the driving time, has CO2 emissions that are 40% lower than the CAFE 1 target and emissions that are just 1/10th of BS6 limits.
Toyota is promoting a 4-pronged approach for the Indian market that includes EVs for city drives, PHEVs for 200 km range, SHEVs for 400-600 km range, and fuel cells for trucks and buses that do long distances with heavy loads.
However, the Indian government's current policy has not been supportive of hybrid cars.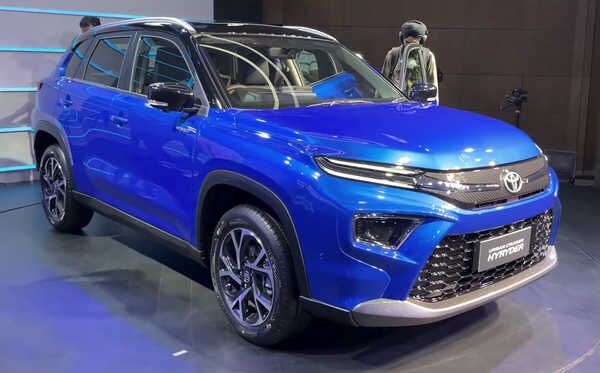 Toyota Urban Cruiser Hyryder

It is a compact SUV that was launched in late 2022 and has turned out to be a success in the market
Has a variety of powertrain options including a proper hybrid powertrain
Excellent fuel efficiency in city driving conditions, making it cheaper to run than a diesel
Seamless hybrid system that makes driving easy
Lower emissions, appealing to environmentally conscious buyers
Toyota's reliability and expertise in hybrid systems is reassuring
Compliant ride quality and balanced driving dynamics
Well-equipped with features such as driving modes, panoramic sunroof, 360-degree camera, ventilated seats, wireless smartphone charging, and more
Only crossover in this segment to provide AWD capability
Toyota's after-sales quality is usually regarded as top-notch by owners
Cons include: practicality is compromised due to reduced boot space in the full-hybrid variant, Quality of interior plastics is less premium than expected, Interior is narrow and not as roomy as some competitors, Lacks the outright performance of the competition, NVH levels from the drivetrain are poor for a hybrid, AWD is only available on the manual transmission.